Bonded Fillings - Dentist in Kanata - Centrum Dental Centre
Tooth-Coloured Composite Restoration in Kanata | Metal-Free Dental Fillings in Kanata
Advancements in dental technology allow us to treat your cavities with bonded tooth coloured fillings. Some patients may be put off by metal fillings due to the metal content. 
Tooth coloured Bonded fillings offer the advantages of being extremely durable while looking natural. They're constructed from a firm resin that bonds to your teeth. This ensures they will last for a long time. 
Contact us at Centrum Dental in Kanata to find out all about your filling options or book an appointment today.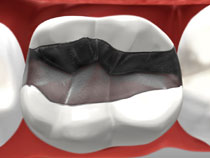 Last Updated On
2020-10-24