Porcelain Inlays/Onlays in Kanata, ON - Dentist in Kanata
Repair Dental Cavities and Damage to Tooth Structure.
Porcelain inlays/onlays can give life back to weakened back teeth. They're also ideal for restoring decayed or heavily restored teeth. They are more durable and longer lasting then regular filings.
Porcelain inlays/onlays require less preparation since they only cover a part of your tooth's surface. They're constructed from a strong porcelain resin, which is resistant against wear, tear, and decay. And the best thing is inlays and onlays are practically invisible since they're matched to your teeth's natural shade. 
Contact us at Centrum Dental in Kanata, Ontario today to see if porcelain inlays and onlays are right for you.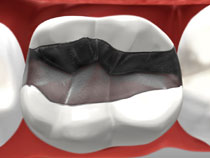 Last Updated On
2020-12-03