Full Mouth Restoration in Kanata - Family Dentist in Kanata
Teeth that have become stained, chipped or missing can make you feel self-conscious about your smile. It can also negatively impact your ability to chew and eat properly. 
Restorative dentistry aims to completely restore health of your mouth. Depending on your dental needs, we employ a number of treatments, such as gum therapy, endodontic treatment, dental crowns, dental bridges, to name a few. 
Centrum Dental - your Kanata Dentist - is here to get you smiling again. Existing patients should call us at (613) 599-5076 and new patients should call us at (613) 519-3999, or fill out the online form on our 'Appointment Requests' page to schedule an appointment.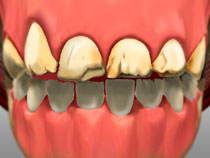 Last Updated On
2020-12-03